A Photographic Field Guide to Dragonflies & Damselflies of Singapore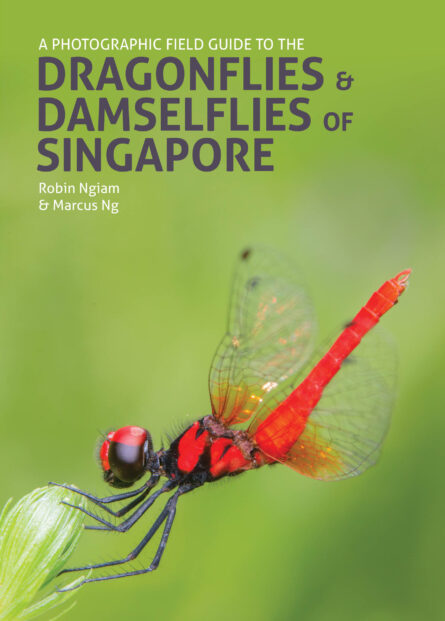 Robin Ngiam and Marcus Ng
A Photographic Field Guide to the Dragonflies & Damselflies of Singapore is a fully comprehensive field guide to the 136 species of dragonfly and damselfly found in Singapore. With stunning, close-up photographs from the authors, each species is illustrated with multiple variants.
The general introduction provides a comprehensive overview of dragonfly anatomy, feeding habits, courtship and reproduction; also dragonfly research and conservation in Singapore, plus the best places for dragonfly watching in Singapore. Detailed coverage of every species includes key features for field identification; telling apart similar species; habitat and habits; presence in Singapore; etymology; wider distribution; national and IUCN conservation statuses; and larval features. Additionally, a QR code links to detailed larvae images from the Lee Kong Chian Natural History Museum website. The final section gives a checklist of the country status and conservation status of all of Singapore's odonates.
Robin Ngiam is a biodiversity consultant who has worked on odonates since 2005, spanning taxonomy, ecological surveys, conservation policies, environmental impact assessments, training courses, outreach and guided tours. He has extensive publications from Singapore and Borneo (Sarawak). In his pursuit of happiness, Robin continues to chase dragonflies around the world.
Marcus Ng is a writer, researcher and curator. His interests and research areas include the natural histories of Singapore and Malaysia; insects of Southeast Asia (in particular, dragonflies and moths); and the natural and human histories of Singapore's islands and coasts.
Specifications: • 210 x 148 mm (8¼ x 6") • 340 pages • 78,000 words approx. • 700 photographs approx.
• ISBN 978-1-912081-40-0 • £39.99 hardback • Publication October 2022