Phillipps' Field Guide to the Mammals of Borneo and their Ecology (2nd edition)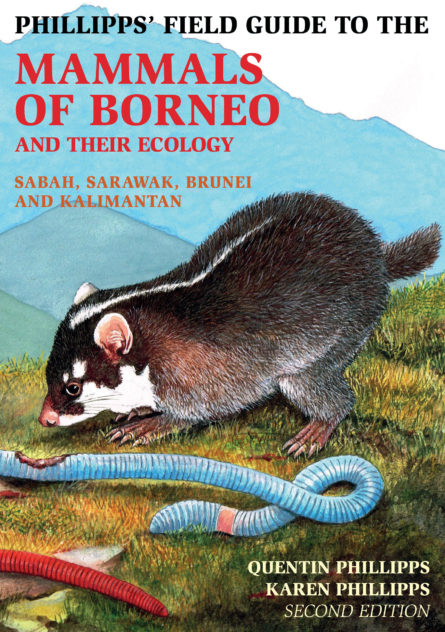 Written by Quentin PhillippsIllustrated by Karen Phillips
A sister publication to the critically acclaimed "Phillipps' Field Guide to the Birds of Borneo", this is a user-friendly field guide to the mammals of Borneo, covering Sabah, Sarawak, Brunei, and the Indonesian state of Kalimantan. The book gives descriptions of over 600 species living or reported on the island. These are superbly illustrated in 141 colour plates. Each plate is accompanied by species descriptions covering taxonomy, size, range, distribution, habits and status. Distribution is shown by detailed thumbnail maps. There are 7 habitat plates, 12 regional maps, fast-find graphic indexes and a full overview of vegetation, climate and ecology.
Quentin Phillipps has been interested in the wildlife and natural history of Borneo all his life. He was born in Sandakan, Sabah and grew up on the Tuaran Rubber Estate. He was educated at Sabah College, Kota Kinabalu, Bedales School and King's College Cambridge,. At 17 he won the Wildlife Photographer of the Year competition (junior section) with the first-ever photograph of a nesting Chestnutheaded Thrush. Currently he divides his time between London and Tg Aru, Kota Kinabalu.
Karen Phillipps was also born in Sandakan and educated at Bedales School then Camberwell College of Arts and Technology, London, where she studied graphic design. Karen has illustrated numerous books on Asian wildlife, including "A Field Guide to the Birds of Borneo, Sumatra, Java and Bali"; "Mammals of Borneo"; "A Colour Guide to Hong Kong Animals"; "A Field Guide to Birds of China"; "The Birds of Hong Kong and South China"; and "The Birds of Sulawesi".
210 x 148 mm (8¼ x 5¾"). 400 pages
100,000 words approx. 141 full colour plates, distribution maps, 12 maps
ISBN 978-1-912081-95-0
£24.99 (UK), paperback, available