A Naturalist's Guide to the Birds of Myanmar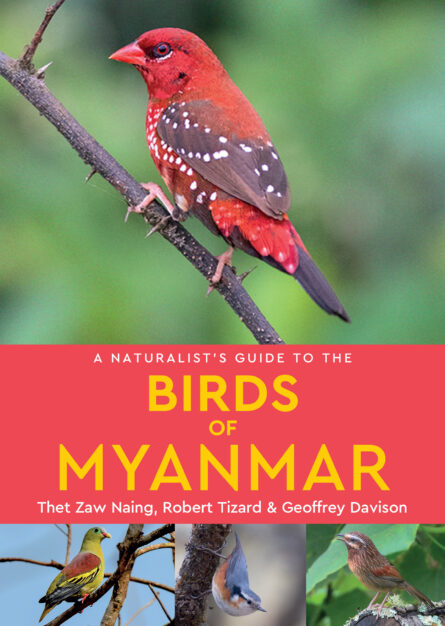 Thet Zaw Naing, Robert Tizard & Geoffrey Davison
A Naturalist's Guide to the Birds of Myanmar is an introductory photographic identification guide to 280 birds found in the most frequently visited parts of Myanmar, with a further 100 related species referred to in the descriptions. The selection covers widespread, endemic and near-endemic species, as well as species that are rare and threatened in other parts of Asia but significant in Myanmar.
High quality photographs from one of Myanmar's top nature photographers are accompanied by detailed species descriptions, which include nomenclature, size, distribution, habits and habitat. The user-friendly introduction covers geography and climate, vegetation, opportunities for naturalists and the main sites for viewing the listed species. Also included is an all-important checklist of all of the birds of Myanmar encompassing, for each species, its common and scientific name as well as its vernacular name, its status in each state as well as its global IUCN status.
Thet Zaw Naing is a birdwatcher and photographer. He is the Bird Coordinator of the Wildlife Conservation Society Myanmar Program, and has wide experience of the natural world in many parts of Myanmar.
Rob Tizard is a Technical Advisor with the Wildlife Conservation Society, Myanmar Program. His interests include community-based, natural resource management and the design and implementation of biodiversity conservation strategies in Myanmar.
Dr Geoffrey Davison has spent all his working life in Southeast Asia, working in teaching, conservation and the environment. His interests range across ornithology, taxonomy and forest ecology, with numerous publications about birds and wildlife in the region, including A Naturalist's Guide to the Birds of Malaysia and Wild Malaysia, both published by John Beaufoy Publishing.
Specifications • 180 x 128 mm (7 x 5") • 176 pages • 40,000 words approx. • 300 photographs
• ISBN 978-1-909612-72-3 • £12.99 paperback • Publication September 2023