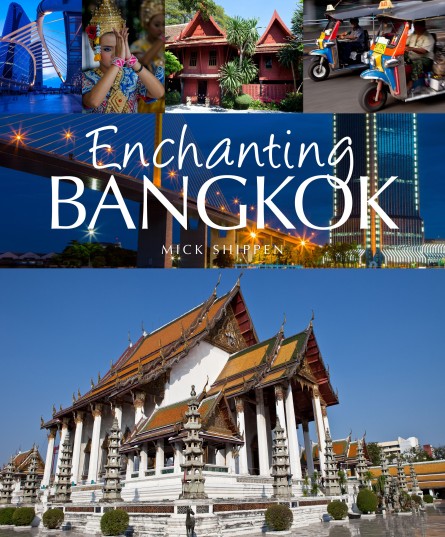 Mick Shippen
Capital of Thailand and one of Asia's most cosmopolitan and compelling cities, Bangkok is a vibrant mix of ancient and modern. It's an intense city packed with people and a wealth of dazzling attractions. There are exotic temples, eclectic markets, gleaming palaces, ritzy shopping malls and, of course, the famous nightlife.
Enchanting Bangkok captures the excitement and vitality of the city through chapters on the spiritual heritage of its temples, the historic museums and monuments, the cabarets and dance performances, as well as the shopping opportunities offered in Silom Road, Sukhumvit Road and the Pratunam area. Visitors can take in the city with a memorable dinner cruise on the Chao Phraya River or while enjoying the cocktail hour in the rooftop bar of a skyscraper. And for those venturing beyond Bangkok, there are the marvels of the historical park of Ayutthaya, the bustling fishing village of Mahachai and the floating markets at Damnoen Saduak.
Enchanting Bangkok introduces in words and vivid photographs all of Bangkok's delights by night and by day providing the perfect introduction to and souvenir of a visit to the city.
Mick Shippen is a freelance writer and award-winning photographer who has lived in Thailand since 1997, first in the northern city of Chiang Mai and currently in Bangkok. He travels extensively throughout Asia conducting research for articles and taking photographs for local and international publications. He is the author of Enchanting Thailand, Enchanting Myanmar, Enchanting Laos, Enchanting Cambodia and Enchanting Chiang Mai & Northern Thailand also in this series.
260 x 215 mm (10 x 8"), 80 pages
10,000 words, 180 photographs
ISBN 978-1-906780-95-1
£9.99 paperback
Available