An Australian Birding Year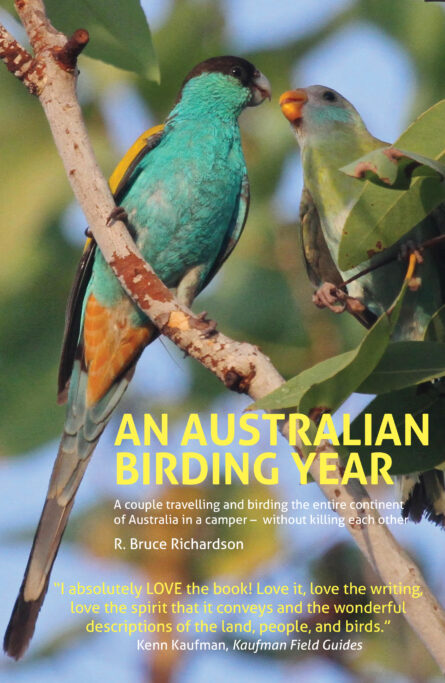 R Bruce Richardson
An Australian Birding Year is a highly personal account of a phenomenal, once-in-a-lifetime adventure that saw Bruce and his wife, Lynn, embark on a year of travel and birding across the entire continent in a camper van. Their aim was to see Australia, but also to keep a list of the birds that they saw together. That list began with two Gang-gang Cockatoos flying over their son's yard in Torquay, Victoria and ended a year later watching a lovely little Speckled Warbler on a chilly morning back in Victoria with 638 other species seen in between.
Kenn Kaufman said, "The story is superb, and the descriptions of birds, places and people are all original and engaging, and I love the asides and the wise and imaginative comments that Bruce works in on just about every page. The little asides that he tosses in are all gems and they add to the value and charm of the book. I love the story, I love Bruce's unique perspective on every topic, and I would like to make sure I get that point across."
The book is more than a list of birds and how, and where, Bruce and Lynn got to see them. It's about the people and the places, and the joy of experiencing the stunningly diverse beauty of Australia.
R. Bruce Richardson, originally from the USA, is a semi-retired singer/songwriter and entertainer living in Lara, Victoria. He became an avid birder rather late in life and continues birding across Australia and writing about his experiences.
Specifications:
• 229 x 152 mm (9 x 6")
• 372 pages
• 45,000 words approx.
• approx. 145 photographs
+ 10 maps
• ISBN 978-1-912081-38-7
• £19.99 (UK),A$39.99 paperback
• Available