The 100 Best Birdwatching Sites in Australia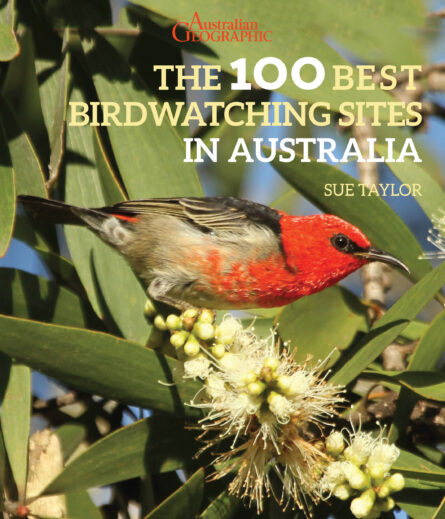 Sue Taylor
The 100 Best Birdwatching Sites in Australia is about having fun birding. It contains the author's personal selection of 100 of the best birdwatching sites in all states, territories and islands of Australia. The sites are chosen for the large number of species or the large number of special birds to be found in each one. In some cases the sites are quite specific, such as Hasties Swamp, some are huge (Lakefield National Park), some are lengthy (the Strzelecki Track) and some cover a whole district, such as Katherine.
Sue Taylor's engaging narrative describes the efforts she goes to in search of particular species. For each site she covers the type of habitat, which special species may be found there and when is the best time to visit. She lists four birds to look out for. Photographs show the site and two of the species that inhabit it whether as residents or as seasonal visitors.
Sue Taylor is a keen birdwatcher and twitcher. She has seen over 800 Australian birds on her travels throughout Australia and its territories. After a series of administrative jobs, she embarked on a freelance writing career in 1998 and has since written short stories, newspaper articles and five books on birdwatching. She is also the author of Birding Australia's Islands, published by John Beaufoy Publishing.
Specifications 210 x 180 mm (8¼ x 7") • 224 pages • 58,500 words approx. • approx. 350 photographs +
100 thumbnail maps
• ISBN 978-1-913679-10-1 • UK £19.99/A$39.99 paperback
• Available